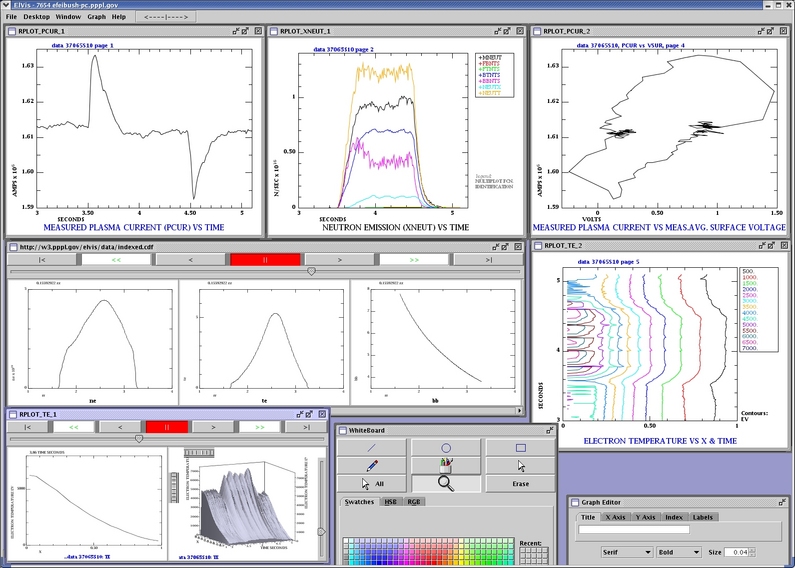 ElVis
Scientific Graphics for Visualization and Monitoring

ElVis displays graphs of data from a variety of sources. Users can explore the data and output publication quality PostScript and PDF files. ElVis can display and animate several graph windows simultaneously. The software is written in Java for portability. Long running simulations can be monitored by running ElVis and selecting data from its internal browser.
ElVis is developed by Eliot Feibush at PPPL.

ElVis Launcher
Download and run this launcher program to install ElVis, check for new versions, and run ElVis with increased memory. This Java program also checks for the right version of Java on your computer. Initially, it installs the latest version of ElVis in the "Elvis" directory in your home directory. The launcher then runs ElVis with the amount of memory you specify. Subsequently, when you run the launcher, it checks to see if a new version of ElVis is available. The latest version is dated 9/20/2017. The version date is shown in the title bar. Update information is available from the toolbar menu under Help-->What's new.

---
Integration with RPLOT


ElVis can display graphs generated by RPLOT. Go to Running RPLOT with ElVis for instructions and examples.




Getting Started with the Graphical Interface



You can display a sample graph and interact with it. Go to File-->Browse URL. This brings up a file selection box. Click on xneut.cdf to load a typical graph. Try some interactions:




Zoom

- click in the graph and drag the selection rectangle to zoom in on the data. You can also move the cursor into the graph and type the '=' key to zoom in or the '-' key to zoom out. Type the letter 'a' to reset.

Scroll

- move the cursor into the graph and type the arrow keys to scroll vertically or horizontally.

Numeric Values

- hold down the cursor below the X axis and drag to display a vertical crosshair with the numeric value of each variable.

Resize

- hold down mouse button 3 (MB3) to get the pop-up menu. Select Max & Fill to enlarge the graph window. Select Restore to return the window to its original size.


To look at some 2-D data, go to File-->Browse URL and select indexed.cdf. This will display a window with 3 indexed graphs. There are VCR buttons along the top of the window and a slider below these buttons. Drag the slider to change the index of the 3 graphs. The VCR buttons are:
|< Jump to the lowest index.
<<
Sequentially display the datasets by decrementing the index.
< Decrement the index by 1.
||
Stop the animation.
> Increment the index by 1.
>>
Sequentially display the datasets by incrementing the index.
>| Jump to the highest index.